ST18000NM000J SEAGATE Exos X18 18TB 512e/4kn SATA
Regular price
Sale price
£273.00
Unit price
per
Sale
Sold out
ST18000NM000J SEAGATE Exos X18 18TB 
The Seagate Exos X18 18TB 512e/4kn SATA hard disk ranks among the high load internal HDDs for NAS systems. The 3.5" format is designed chiefly for desktop PCs and data centres. One of the most important parameters is clearly the number of revolutions per minute (RPM). The 7200 RPM RPM delivers improved system performance and faster data transfer. You can look forward to a total data capacity of 18000 GB. The device has a 256 MB memory cache. You can link the Seagate hard disk and other hardware is takes place through the SATA III interface.
Seagate Exos X18 ST18000NM000J 18TB 512e/4kn SATA Hard Drive Key Features
Read speed up to 270 MB/s and write speed up to 270 MB/s
256 MB memory cache
Seagate

 

3.5"

 

disk

 

for standard bays
Maximum power consumption 9,4 W
It communicates with a PC or other devices through the SATA III interface
HDDs don't have much resistance against physical shocks, but it's also the most cost-effective storage solution available
Other HDD Features
Platter HDDs have a special construction. Inside the drive there is a mechanism that utilises moving platters, complete with disk read/write heads. These mechanical parts are admittedly more sensitive to shocks, but this design delivers an affordable price tag and high storage capacity. The important criterion that determines the speed of a hard drive is the number of revolutions per minute (RPM). With the Seagate Exos X18 18TB 512e/4kn SATA, you can look forward to 7200 RPM RPM. This should delight the more demanding users, for example video editors, graphic artists, people who play PC games, and everybody else who deal with large amounts of data. Data transmission and overall stability is also determined by the disk buffer, usually called cache. The Seagate HDD includes a 256 MB cache that stores the last data inputs for their prompt retrieval and reading.
Connecting the Seagate Hard Drive
If you want to install the Seagate Exos X18 18TB 512e/4kn SATA in your computer or other device, it must be equipped with a 3.5" slot. The communication between the HDD and PC happens using the SATA III interface with a speed of 3 Gbit/s. This technology ranks among the most popular HDD data transfer solutions available and delivers a throughput of 600 MB/s.
WE ARE SEAGATE Authorized reseller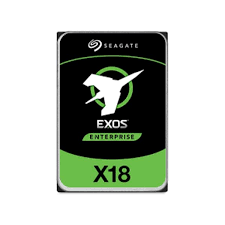 ST18000NM000J OEM
Share
---
ST18000NM000J SEAGATE Exos X18 18TB 512e/4kn SATA Price List